5 Essential Wedding Decor Tips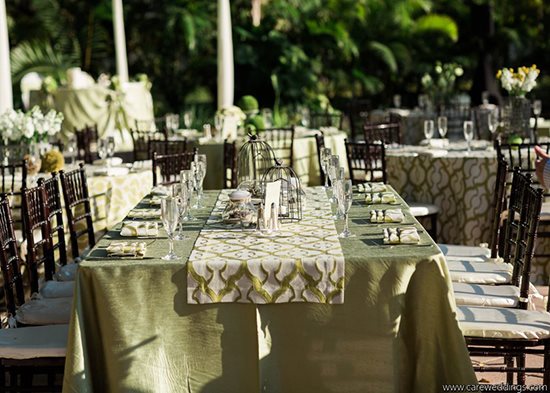 Here are 5 Essential Wedding Decor Tips to start you on your way to creating your dream wedding.
1. Matchy-matchy is OUT! Mix and match is IN! Boost your style and not your budget by using square and round tables with a combination of coordinating linens. Switch up tall centerpieces and low-n-lush tablescapes from table to table.
2. Pinterest is a great place for inspiration but don't let it overwhelm you! Stay true to your personal style and avoid anything too trendy. Your wedding day is not the time to reinvent yourself.
3. Edit. Event design can be beautiful, but if your not careful it can be overwhelming; it's all about editing and balancing. Beware of gimmicky Etsy crafts.
4. Wedding Cake Size The size of your wedding cake should match the scale of your venue. If the reception is taking place in a grand ballroom, a tall multi-tiered cake will fit the space. Consider faux layers for extra height and stability. For smaller gatherings, a modest 3-tier structure will be impressive.
5. Branding your wedding with a monogram or theme will create cohesiveness. Start with the invitation and carry it through the wedding in subtle ways. Think "subliminal advertising".
---
‹ Back