Buffet or Stations?
If you've been to weddings in the past you know there are two main catering options to choose from. Both buffets and stations give guests the most food variety, and the cost practically identical. The biggest difference lies in the reception set-up ad the overall feel of the event you're going for.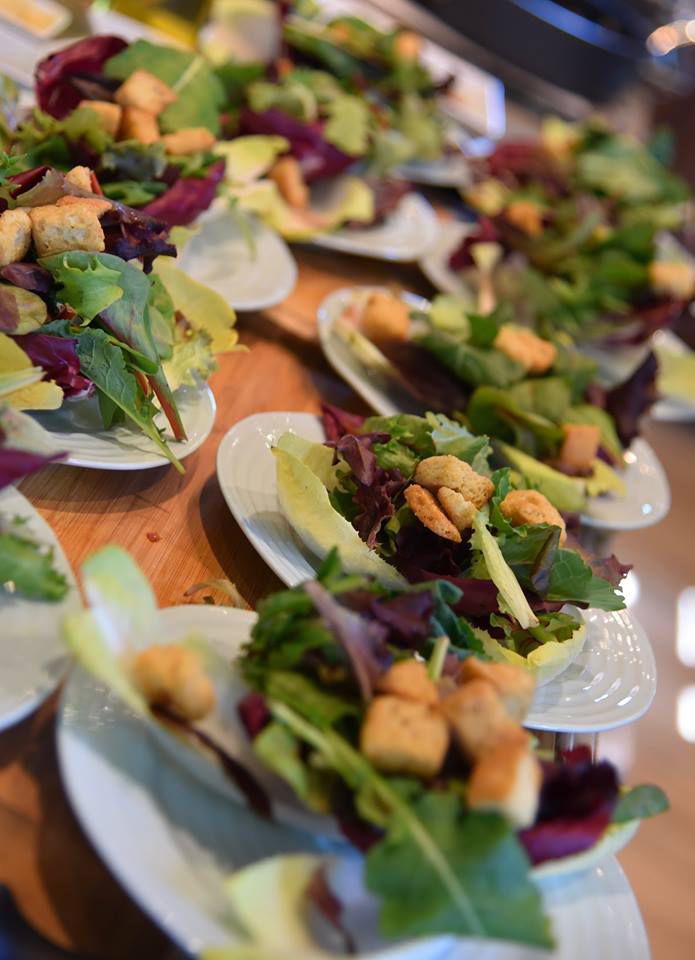 Receptions with a buffet setup are the traditional choice. Tables are pre-set with plates and utensils and (typically) every guest has an assigned seat. Guests enjoy this, because it makes the event feel more formal. This traditional setup also tends to have a very dramatic feel, while being a definite money saver compared to the plated-and-served meal which can cost 25% or more per person.
Another benefit of the buffet is that it allows your guests to get and eat their food at once, so your guests don't need to keep getting up to travel from station to station.
The downside, however, is there will be lines. Since all your food is displayed in a long buffet set up, it's a good idea to work with your wedding team ahead of time to figure out the best strategy to alleviate your guests from spending too long in line. The last thing you want is for your guests to get frustrated before they've even gotten their meals. Consider making the buffet double-sided, or to call guests up by table.
In a reception featuring stations, many different mini-buffets are placed throughout the room and guests are encouraged to visit each staton. Plates and utensils are not preset at tables; rather guests will get a new plate and silverware as they visit each station.
Stations are definitely the best way to give your reception a more contemporary feel. You can get very creative with your table setup, using tables of varying sizes and shapes. It's a great option if you're tight on space but don't wish to decrease your guest list. Plus, with so many stations around the room, there will be less of an issue of guests waiting in long lines. Stations also offer you to bring in all different kinds of unique food!
In this kind of setup, you don't need to worry about guests having assigned seats. It's a far more casual atmosphere. Though you should know that while the cost is almost identical to the buffet setup, adding Chef attendants and action stations might increase the price per person!
You should weigh the Pros and Cons of both options. Decide what kind of feel you want your reception to give, and go from there.
---
‹ Back