Design Era Dictionary
If you want your Wedding to have a historical flair, or even just incorporate elements of different eras, these key words might help you achieve your vision: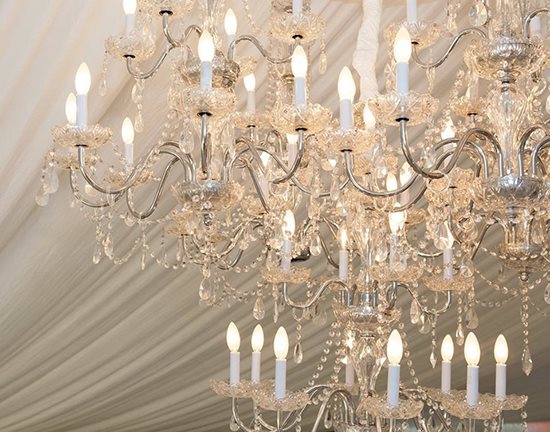 Regency: This period is classic and timeless. Brass and marble make a refined statement, while stately details exude elegance.
Wedding Style Interpretation: Go for a black-tie optional ballroom affair. Mix rectangle and round tables set with gold-rimmed white china. Chandeliers and pinspot lighting accentuate cascading centerpieces.
Victorian: Equal parts romance and sophistication. Victorian design is often viewed as excessively ornamented, and late Victorian can also be interpreted as the "gothic" era.
Wedding Style Interpretation: You welcome unexpected elegance to the table with vintage teapots filled with lush pink and white peonies. Consider clustered floral or pale damask linens and a palette of pastels.
Belle Eponte: French cafes and a boisterous nightlife epitomize this era.
Wedding Style Interpretation: Opt for charming, round bistro tables and French touches. Blend causal with more ornate pieces, such as a heavy velvet curtain that separates the cocktail hour from the reception.
Old-Hollywood Glamour: Feel the magic in the air! Sparkle is key; jewel-tone colors and lacquer are essential.
Wedding Style Interpretation: Saturated colors; metallics and mirrored touches abound. Choose rectangle tables with votives and lanterns running down the center. Florals are accented with pearls and feathers.
Pop Art: Go for kitschy and over-emphasized use of color and graphics. Warhol prints are the go-to art selection.
Wedding Style Interpretation: Cherry red, lime gren, and sunny yellow - yes, altogether! Your invites have dimension, while photos of your favorite modern art prints top your escort cards.
Minimalist: Less is more. Emphasize clean lines and natural, unfussy colors and textured elements.
Wedding Style Interpretation: Nothing says sophistication like an all-white wedding. Your details come in the textures, like cable-knit linens and paper menus. Your go-to flowers are garden roses and ranunculus.
12/06/2015 at 08:10 PM
---
‹ Back