Florida Keys Beach Weddings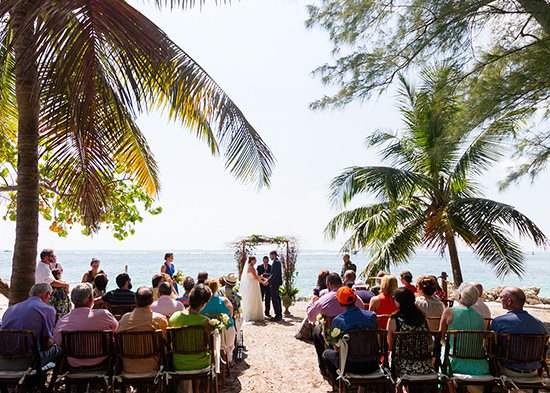 Planning a Florida Keys beach wedding? Here are some very important things to keep in mind from choosing the right wedding gown to the dreaded "back-up plan":
SKIP THE BALL GOWN – Let's face it, a ball gown belongs in, well, a ball room. You need to think "light" including fabric that is light and airy. Chances are the sun will be shining and a traditional gown can be heavy and tight…you will simply be uncomfortable for the most important 1/2 hour of your life.
RE-THINK A TRAIN & LONG VEIL – Yes, the sand looks wonderfully clean, but you'll be amazed what sticks to the lace and veil as you walk through it. I've picked out twigs, sticky burrs, bugs, crabs and bottle caps out of the bottom hem of a long gown and veil after the ceremony.
CONSIDER AN UP-DO – Not only will you be cooler with your hair up off your neck, but if it is windy, you won't have hair swirling around your face in the photographs.
DITCH THE HEELS – High heels and sand simply don't mix. This goes for all your bridesmaids and guests alike. In fact, it can be downright dangerous. Besides, why would you want to walk down the aisle looking like your taking a sobriety test on the side of the road?
AVOID TAN LINES – Strap lines with strapless wedding gowns is simply not attractive. Plan your sun bathing in an appropriate bathing suit in advance or, make an appointment to get a spray tan at least 2 days in advance so you don't leave stain marks on your gown.
LET THE GUYS GO INFORMAL – Black tuxedo's are a no-no on the beach. Your Groom will be sweating profusely in a dark suit. Opt for cotton pants or Bermuda shorts and loose fitting shirts. If you must have formality, have the guys wear vests.
PROVIDE SHADE & FANS – Shade is you guests best friend. Consider a canopy to cover the seating area. Offer a basket of hand fans to your guests or a program made of heavy stock paper to use as a fan.
OFFER REFRESHMENTS – Keep guests hydrated with ice water or infused citrus water set up on a nearby table. Guests can enjoy while waiting for the ceremony to start.
KEEP BUGS AT BAY – Insect repellent is a good idea no matter the season or beach location. Nothing will take the joy away from a Florida Keys Beach wedding faster than a swarm of bugs.
RENT A MICROPHONE – You will be amazed how sounds dissipates outdoors . Only the first couple of rows of guests will hear you. Rent a microphone for your officiant and any musician you have hired otherwise, no one will hear a thing in the back rows.
HAVE A BACK UP PLAN – Unfortunately, no one can guarantee good weather so be ready with a solid Plan B. Have a tent rental ordered in advance; most companies will require a refundable deposit if you cancel at least 7 days in advance. Otherwise, find a space indoors where everything can take place like a church banquet hall.
---
‹ Back