Guide to Creating Your Dream Wedding. Step Eight: An Unforgettable Meal
So many people are so busy detailing extravagant decor for their event that they usually end up entirely missing the opportunity to get creative with their dining selections. Don't overlook the fact that the meal you serve is another fantastic way to add more of your personality into your special day.
If you come from a big, Italian family - or just happen to love Italian food - consider a family-style Italian dinner, having stations such as pastas or gourmet pizzas-to-order, or even offering tiramisu in place of the more traditional wedding cake. To add a more personal touch, you could even ask any friends or family who love to bake to make cookies for the reception - an Italian tradition sure to make the guests involved feel like an important part of your big day!
This is just one example. There are plenty of ways to get creative with your meal and ensure yet another way your wedding will be a long-remembered event!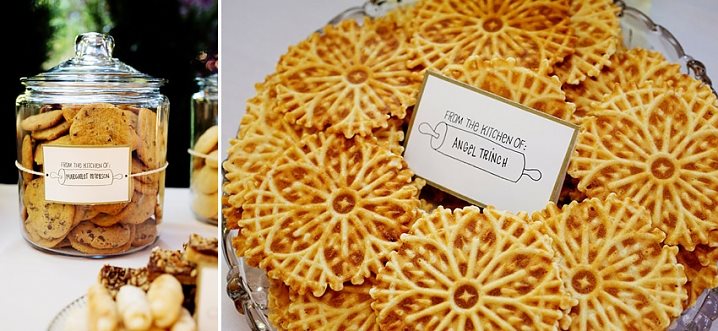 This wedding chose to offer a cookie bar, with each delectable treat labeled so attending guests knew who contributed to the special day!
---
‹ Back