Guide to Creating Your Dream Wedding. Step Five: Tradition is the New Trend
Some brides think traditionalism is passé, but sharing a piece of culture and heritage through tradition and symbolism is a beautiful sentiment your guests will always appreciate. Not only that, but since so many wedding traditions have been lost over the years to the thought of being "out-of-date," bringing them back or putting a new twist on them has become the new fashion.
The bouquet toss is a tradition steadily finding it's way out the door, as many unattached guests seem unwilling to participate. Rather than nixing the custom entirely, consider presenting the bouquet to the bride's mother or someone you would like to honor during the night.
Another great twist on an old tradition is revamping the anniversary dance. Instead of starting out with everyone on the dance floor and ending with only the longest-married couple, consider the dance in reverse: starting with only the longest-married couple and then inviting others to join them, so that by the end of the song you have a full dance floor ready to party!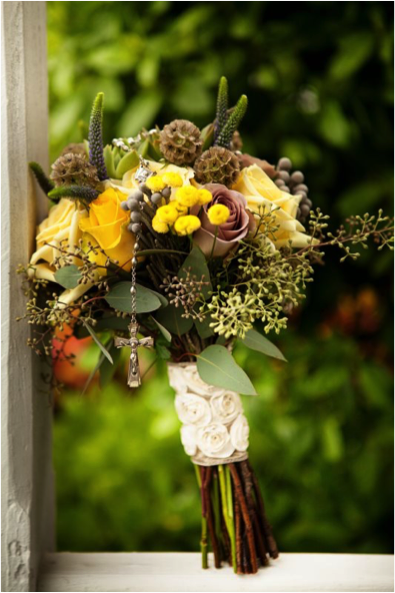 Instead of wearing a cross around her neck, this bride chose to incorporate her religious tradition by entwining the cross in her bouquet.
---
‹ Back