Guide to Creating Your Dream Wedding. Step Four: Details, Details, Details!
Having a few detailed surprises throughout your wedding can help tremendously with creating an elegant and memorable event. Here are a few ideas:
1. Create (or hire a graphic designer to create) a wedding "logo"for your special day. This can be something as traditional and elegant as a monogram, or something funkier, like a pineapple to symbolize hospitality - whatever you think fits the theme of your wedding best! Your logo can be used on save-the-dates, inviations, thank-you notes as well as on menus, place cards, cake toppers, or in animated lighting on the dance floor!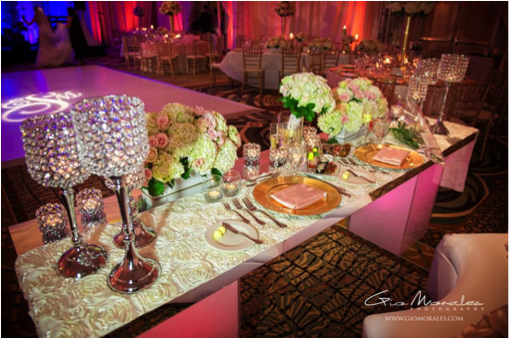 2. Surprise your guests with a welcome basket or bag. There's nothing nicer than greeting your guests – especially those traveling from out of town – with the gift of a beautiful basket or bag filled with regional treats. These gifts can also include items that reflect your wedding's theme. Do not forget to include a personalized note, and weekend itinerary and/or suggested shops, restaurants, and sites and activities for traveling guests to enjoy during their stay!
3. Choose stationary that reflects the theme of your wedding. Your stationary should convey your theme – the colors, tone, and formality - starting with the very first printed mailing that your guests receive.
4. Whether you are doing a seated dinner or buffet, adding menus and place cards to your table is always an elegant touch.
5. Always send a thank-you card, and always tie your thank-you notes into your overall wedding theme. This ensures the last thing a guest receives from your wedding reminds them of how extraordinary it was!
6. Guests love to write notes to the bride and groom, so it's nice to offer cards for your guests to leave you personalized messages. These can be added to your wedding album later on!
7. If your venue has specified parking areas, multiple ballrooms, or can be difficult to locate, make sure to provide ample signage (that is tied into the overall theme, of course!).
8. A spectacular send off! Nothing is as memorable as sending the bride and groom off under a wave of sparklers!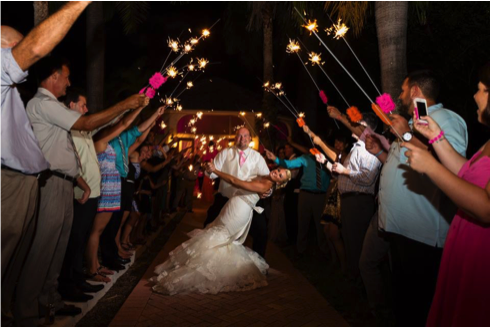 ---
‹ Back