How to plan a destination wedding
We know that for some, diving into the uncharted waters of destination wedding planning can be, well... a little overwhelming. So here's a few answers to the questions you might have: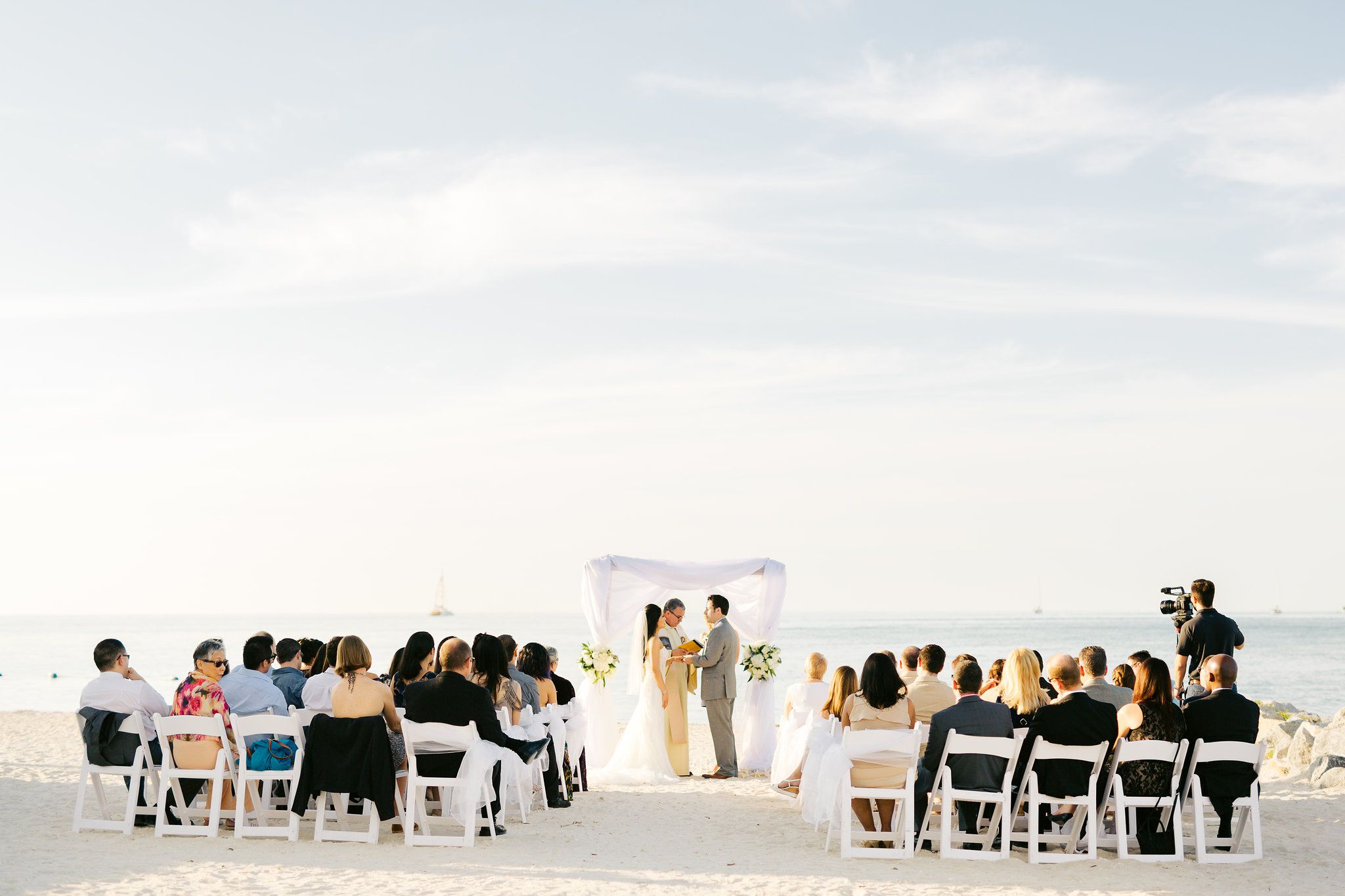 ONE: IT'S NOT AS EXPENSIVE AS YOU THINK
If you think saying "I do" in a beautiful tropical setting means busting your entire wedding budget, it's simply not true. With a smaller guest list and a beautiful location that needs minimal decor, you'll be spending less on virtually everything. You can even cut back on travel costs by picking a destination that is easy to access, like the Florida Keys, you U.S. citizens won't even need a passport.
TWO: VISIT THE VENUE
Schedule a trip and tour your venue ahead of time. Knowing the who, what, where and why of your wedding destination before you travel will cut back on any undue stress or hiccups in the road when you arrive. From figuring out the logistics on marriage licenses to studying the weather patterns to figuring out transportation (ferry, boat, plane or car), you'll want to be informed... and then some.
THREE: LET GUESTS PLAN THEIR OWN TRAVEL
Contrary to popular belief, you don't have to take on the stress of planning your guests' travel. But making sure they're completely up-to-date with all of the most important info is totally key. We suggest assembling a thorough travel packet for your nearest and dearest, so they know all of the details, from airport info to accommodations to transportation.
FOUR: CREATE AN ITINERARY FOR YOUR GUESTS
You don't have to plan your guests' travel, but putting together a list of activities for their stay in paradise is not only nice, it's necessary. Think a fun-filled night out on the town, a welcome dinner at your hotel or a beach day with volleyball, snorkeling and rum punch. Just don't feel like you have to plan their every last move - you can simply offer up a suggested list of activities or recommendations on restaurants, so they can explore on their own.
FIVE:ANYTHING GOES....NOT JUST BEACH THEMED
Whether you've spent your life dreaming of a seashell-filled celebration, or find yourself leaning towards something else entirely, tying the knot in a destination soiree doesn't mean you're stuck with the beachy theme. Nope, if you are a modern bride looking for a place to host your contemporary do, you can definitely make that happen, no matter your destination.
Saying "I do" seaside doesn't necessarily mean you have to rock flip flops and a casual dress for your Big Day. Many couples still want a luxurious wedding... and many Florida Keys resorts offer gorgeous ballrooms. So pack your biggest ball gown and those four-inch Louboutins, then saying goodbye to that laid-back toes-in-the-sand vibe. Because you're going to do this princess-style.
SIX: LESS GUESTS = MORE QUALITY TIME
Narrowing down that guest list may be a hard task to tackle, but having fewer guests is a perfect way to spend some quality time with the ones you love. So if you feel anxious about the limited number of friends and family who will attend your Big Day: don't. We guarantee you'll absolutely adore spending a week with them in paradise.
SEVEN: HIRING A LOCAL PLANNER ISN'T AS HARD AS YOU THINK
You may be afraid to tackle a destination wedding, but you can most definitely ease those fears by hiring a talented team of wedding pros from D'Asigner Events to make it all come together seamlessly. Because finding the right people means actually enjoying your own wedding, so please don't worry about those long-distance calls or emails - you honestly don't need face-to-face meetings to plan that dream day. We promise.
---
‹ Back