How To Speak "Wedding."
Do you ever feel like you and your wedding planner just are not speaking the same language, or that you're having difficulty explaining your vision for the big day to others? Here are some useful terms that might help you express exactly what you want: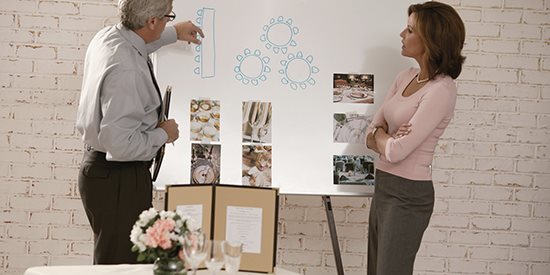 Preppy-Chic: Bright, classic colors and playful motifs. Yachts and country clubs make perfect venues!
Gatsby Glamour: 1920's-inspired details, like pearls, metallics, feathers, and sparkle. Ideal for a grand hall or formal ballroom venue.
Classic: Timeless, traditional colors an elements. Perfect venues might include a country club or historical building.
Artsy-Chic: At a posh gallery or warehouse-type space. South Beach-inspired accents with a black-and-white color palette and mirrored accents.
Modern: Sleek, clean, minimalistic, with a loft or gallery space as the venue.
Bohemian Beach: A beachfront setting is obviously ideal. Blue, green, and crisp white color palette, with tropical or nautical decor elements like seashells, coral, or driftwood.
Elegant: Simple but pretty decor, with personalized accents. Perfect venues might be a museum, estate, or garden.
Rustic-Chic: Nature-inspired decor and seasonal colors, with pretty details and combinations such as burlap and lace, or crystal chandeliers in the miix. A barn would make for a perfect outdoor venue!
Garden Romance: In a castle or botanical garden. Lots of lace, pastel colors, flowers, and romantic candle lighting.
Retro Cool: At a swanky hotel or restaurant, a throwback with playful details, bright colors, and graphics.
Modern Vintage: Bring back old-world charm with lace, muted colors, mismatched patterns, antiques, and whimsical details. Perfect venues would include an old estate or winery, or a quaint bed and breakfast.
---
‹ Back