Pets in the Wedding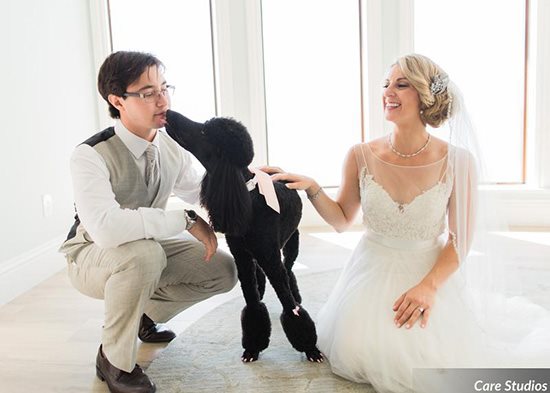 Having a Pets in your wedding definitely isn't for everyone — it can be stressful for the animal and difficult for the bride and groom to manage. But for many couples, inviting their furry friend to stand next to them on the Big Day is important and meaningful — and it makes for great photo ops. Dogs are often considered to be the most wedding-friendly pets, regularly (and happily!) donning tuxes, carrying out ring bearer duties and posing for photos. It's estimated that nearly 10 percent of brides have had pets present at the ceremony and/or reception.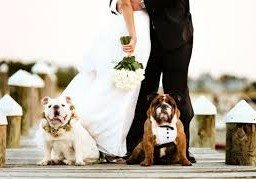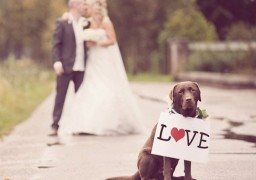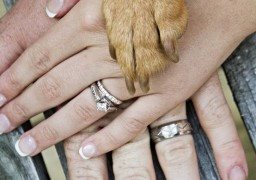 Pets in the Wedding can be a guest of honor and simply stand with the wedding party during the ceremony, or your pet can have a specific role (ring bearer or flower girl are common roles) in the ceremony. But before giving your pet a starring role, think about whether this will be an enjoyable experience for him. Will your pet feel comfortable around your guests? Is he obedient and well behaved? There's no guarantee that your pet will behave exactly how you want him to on the day of the wedding. Even the most outgoing and friendly pet can be overwhelmed by a crowd of guests.
Planning on dressing your pooch in a tux? Make sure it fits properly and doesn't create any discomfort for your pet. Keep the accessories simple—a bowtie or flower attached to the collar is a fun way to deck out your pet. Ensure that any accessories won't come loose and pose a choking hazard to your pet. Be sure to check if any flowers or plants being used at your wedding are not toxic to your pet.
---
‹ Back