Tips for Selecting Your Bridal Party Gowns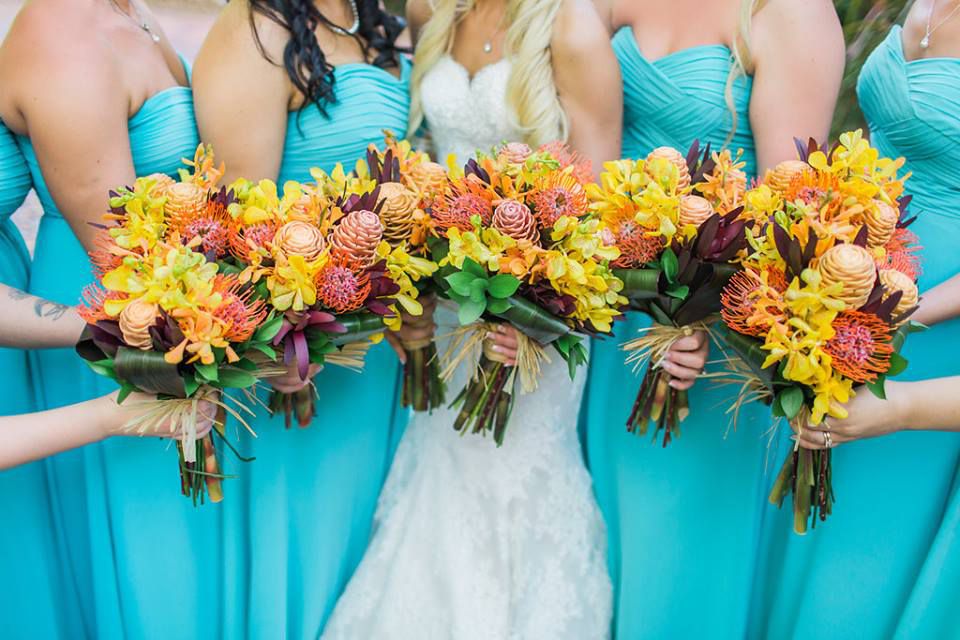 Selecting the gowns for your bridal party can be one of the most stressful parts of the planning process. While usually bridesmaids defer to the Bride's "vision" for what they should be wearing, a lot of bridesmaids can be very opinionated on the type of dress they like to wear and what they think looks best.
As the bride, you should want your bridesmaids to be happy - they're your friends, and doing you the honor of standing at your side on your big day - but keep in mind that it is still your wedding and ultimately your decision. Here are some quick tips for making bridesmaid dress shopping as stress-free as possible, and hopefully ensuring an outcome where everyone wins!
1.) Be Flexible. Your bridesmaids are all unique individuals with different body types and different personalities. Letting them express themselves through dress selection will not only make them happier, but it will set your bridal party apart from the traditional uniform look.
2.) Give Options. This goes along with being flexible, and is especially helpful if your bridesmaids have varying body times. A dress might not look good on every figure, and you should want your girls to feel beautiful and confident in their dresses!
3.) Set Clear Guidelines. Obviously you have a vision in mind already. If you envision your bridal party in long gowns, or in pink, be sure to tell them right from the start. That way your bridesmaids still have the freedom to choose within your set parameters while you still maintain control over what your bridal party will look like!
4.) Give Time for Alterations! Not all your bridesmaids will fit into off-the-rack sizes. You should generally order dresses 4-6 months in advance - especially if you're shopping from bridal stores - to ensure plenty of time for alterations or any unforeseen mishaps!
5.) Aim for Cohesiveness. If you're choosing a different dress for each bridesmaid, make sure all the dresses still tie together in some way to have them stand out as members of your bridal party. You've chosen these friends above others to stand up with you at your wedding; they shouldn't blend in with the rest of your guests. This element can be something as simple as color, or a certain accessory.
---
‹ Back